It's a pre-owned car but had only around 198 miles on the odo. Also, it's a limited edition model.

BHPian Rajamass recently shared this with other enthusiasts.
Prelude
Rewinding to Sep 2021, I just moved to the US for my post-doctoral research with my family. In this long thread, I discuss my US car purchasing experience and ownership experience with VW Passat Limited Edition. I owned a Ford Figo Aspire DCT in Bengaluru, which was sufficient for my needs. We also own a VW Vento TSI+DSG in our family.
Car Purchasing Experience in the US
I have a fair idea of public transport problems in the west, particularly last-mile connectivity. Hence, I planned to buy a car as soon as I moved, but the market scenario worsened so severely that I had to wait nearly five months to get a car.
Moving to the US helped me as the prices of vehicles are a lot cheaper with few maintenance costs. People advised me to go with pre-owned vehicles as they are more affordable, but I realized most of them were driven crazily beyond 100k miles (>156k km). I was not comfortable. VW cars are my favorites, and I wished to buy a new VW Jetta SE variant which would fit my budget of less than 25000$.
In Aug 2021, just before moving to the US, VW announced a refreshed Jetta for the North American market with an upgraded engine and other features. Due to the chip shortage, new cars that were supposed to arrive at the dealership in Oct got pushed to the March 2022 time frame. I started to look at used cars, but the prices of pre-owned vehicles had gone crazy by then. For example, a Toyota Corolla of 2015/16 model with 1 lakh miles (160k Kms) was selling for 17-18000$. The actual price of the car would have been around 20000$ back in 2015/16, insane!
Left with no other option, I had to wait a few months to save some money and buy a new car. Pre-owned cars sell quickly here, especially those with clean Carfax history and are well-priced. I had an opportunity to buy a pre-owned 2012 VW GTI in Nov 2021, but by the time I confirmed my deal, the car was sold in a few hours. I took Carfax 6-report subscription for 100$ before starting my search. This is something I wish to have in India. The Carfax reports will have most details related to ownership records, service, and accident history. It also mentions if any major parts are replaced, like the water pump, fuel injectors, etc.
In Jan 2022, I came across a white VW Passat R-line 2020 model offered as a certified pre-owned (CPO) vehicle with an additional two-year or 24000 miles warranty. It has driven ~8500 miles (~13000 km) and was well maintained. The price was reasonable with 25000$ + Taxes and department of motor vehicle fees, a total of around ~28300$. I took personal time off and went to see the car on a weekday, traveling 75 miles (110 km) away from my place.
The showroom was not of VW standards. I can vouch for the VW showrooms in Bengaluru, which are well maintained than this one. I checked the car and instantly liked it. The sound system was excellent with standard speakers. The spacious interiors were something I had not experienced before. I was ready to pay the advance and take the delivery on Saturday. The dealership asked me for a driving license, which I had not yet. I told him that California law does not require DL for buying a vehicle and there is no need for an international driving license. California law allows people to drive as long as they hold a valid driving license issued in their home country for up to a year.
We negotiated the price and fixed the date and time for delivery. The next day the dealer called me and asked me to come and make the payment. The service advisor warned me they would sell the car to other customers if I didn't turn up. I was furious and frustrated. I decided to go the next day and called him before leaving. The service advisor told me the vehicle was sold by then. In hindsight, I realized that the dealership does not want to sell the car to someone who pays upfront in cash. They have tie-ups with banks and prefer to sell the vehicle to someone willing to take a loan and get more margin. I could not take a loan as I didn't have a good credit history built by then. Some banks offered interest rates as crazy as 40% APR. The wait continued, but I firmly decided to buy the VW Passat.
I came across another VW Passat listing in the first week of February. This time it was a top-of-the-line 2022 limited edition variant with Aurora Red metallic exterior. VW announced the retirement of Passat from the North American market and hence produced a few models with limited edition badges and exclusive features to the variant. My first glance at the ad made me suspicious. The mileage posted for the used car was just 198 (300kms), and it has a clean Carfax report showing Nov 2021 as the month vehicle was first registered. It was priced at 29491$ plus taxes and a DMV fee. The limited-edition Passat will cost me >35000$ if I buy a new one.
The price was shocking, considering the demand and supply issues then. I looked at the seller, a Lexus dealer (Lexus of Fremont). I called them immediately and confirmed the car's availability. It was on Wednesday, and I was cynical about its availability until the weekend. I called them again on Friday, and it was still available. I immediately scheduled a visit for Saturday morning time. This time I prepared myself to buy it on the first visit if I liked it. I made sure that I had the required cash in my account. I cleared my driving license test by then but have yet to get the physical copy. I just got a provisional driving license.
The Lexus of Fremont is one of the largest dealerships I have ever seen. They were at the heart of the Bay Area and Lexus, having an excellent reputation in the US, helped them. They had a vast catalog of Lexus and other branded cars, which they got as trade-ins, including the BMW i8. The showroom was excellent and had class interiors all over. The sales associates told me that they sell 20-30 cars daily!
The service advisor then took me to the parking lot and showed me the red beauty. This one looked more beautiful than the white one I saw earlier. I will discuss the features shortly. I test-drove and found everything okay, nothing suspicious. Since it was almost brand new with barely any mileage on the car, it carried all OEM car benefits, which included a 7-yr perforation warranty, 5-yr VW car-net subscription, 4-year/50000 miles warranty, 3-year roadside assistance, 2-year free maintenance. I knew I was making the right decision. I could bargain a few hundred dollars and proceed to the formalities.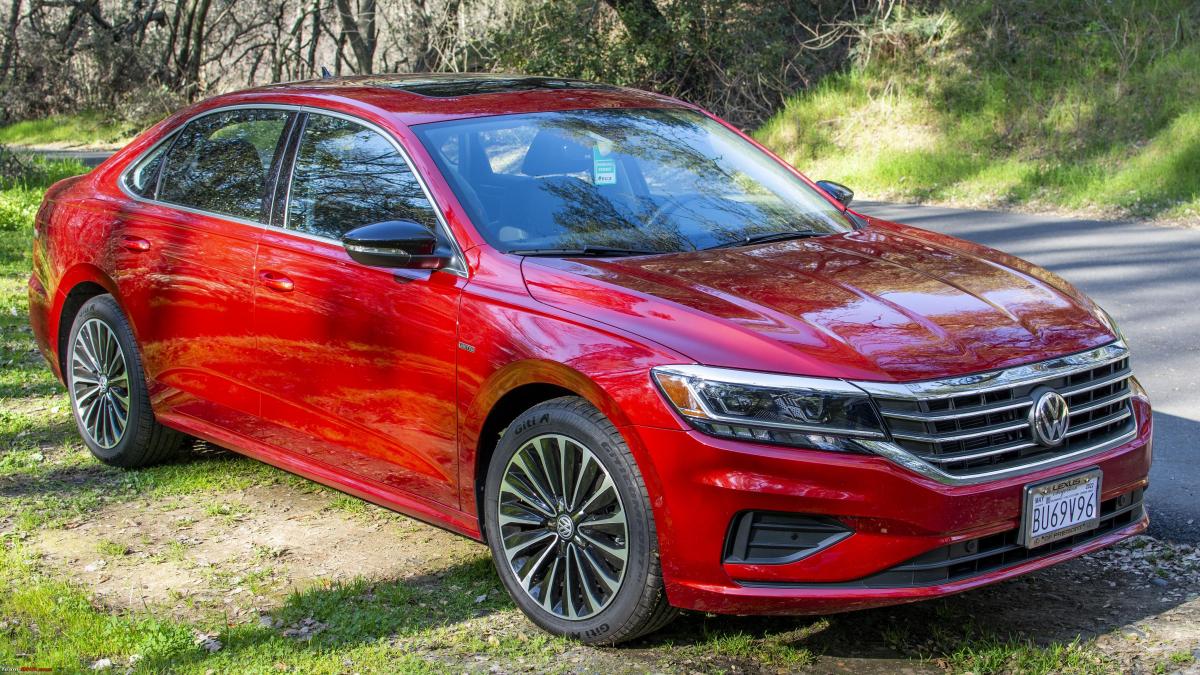 VW Passat Limited Edition Features
VW announced that this would be the last iteration of the Passat for the North American market. The current model is a seventh-generation car based on the old platform named Passat NMS (NMS for new midsize sedan built on A32/33 platform). It's a downscaled version of the premium Passat offered in the European market but larger. Currently, the Passat sold in Europe, and China is built on the popular MQB modular platform.
Being an older platform, it missed features like the fully digital display offered in the lower model Jetta. VW North America had no plans to update the existing platform. Hence decommissioned, the model with a few limited-edition cars (1973 in number). The number reflects the year VW Passat was first launched in Germany.
The red one I own is made only 411 in number. Limited edition cars come with special interiors which pay homage to the city of Chattanooga in Tennessee, where the Passat is built. Being a top variant, it has an extensive list of features. The technical specifications are listed here. For variant-wise comparison, check this PDF. I will list my favorite features and why.
The ten great features I liked
Top Safety with Level 2 ADAS features: The car has all level 2 ADAS safety features, including adaptive cruise control, lane assist, blind-spot monitoring, rear-traffic cross alert, forward collision warning with pedestrian and cyclist detection, and automatic emergency braking. It also has automatic braking post-collision and an intelligent crash response system that makes emergency calls and unlocks doors. The braking is also powerful with all-wheel ABS disc brakes.
Steering wheel: The multifunction steering wheel is a leather-wrapped flat-bottom steering wheel I have always wished to have. IMHO, it looks beautiful and more practical than the round steering wheel.
 Audio: A 400W Fender premium audio powers the car with a dedicated subwoofer. Fender is a Californian music instruments company headquartered in Los Angeles. They are well known for electric guitars. Several VW vehicles sold in the US were associated with the Fender premium sound system. The sound is explosive, and the audio quality is superb, with excellent bass. The audiophile in me always smiles while driving the car.
Roominess: The Passat has a wheelbase of 2804mm. The interior legroom is extraordinarily spacious—friends and relatives who boarded rave about the car's roominess.
Seats: The car has comfortable sports seats with a perforated Vienna leather seating surface. Both driver and passenger seats are electronically powered with adequate lumbar support. The driver's side is 12-way adjustable with 3-seat memory, while the passenger side is 8-way adjustable without seat memory. Even the ORVMs position gets saved. The front and rear seats have a heating function, a rare feature in this segment. Most cars are offered with only heated front seats. Before buying, I never realized how important this feature is. The winters here in the central valley of California go as low as 0° C and chill in the morning. The heated seat aids in the comfort pretty quickly.
Lighting: The car is equipped with VW light assist (or adaptive front-lighting system), which includes an array of features like curve adaptive beams, incoming traffic adaptive, auto headlamps, auto high beams, and low beams. The low beams are projector LEDs, but reflective mirrors assist the high beams. Driving at night is a joy, but the sensor for the incoming traffic light is too sensitive and switches to low beam much before. During ignition, the lights display a pretty cool basic start sequence. The LED projectors are steering-sensitive or curve-adaptive. The rear brake and turn lights are also LED but not dynamic.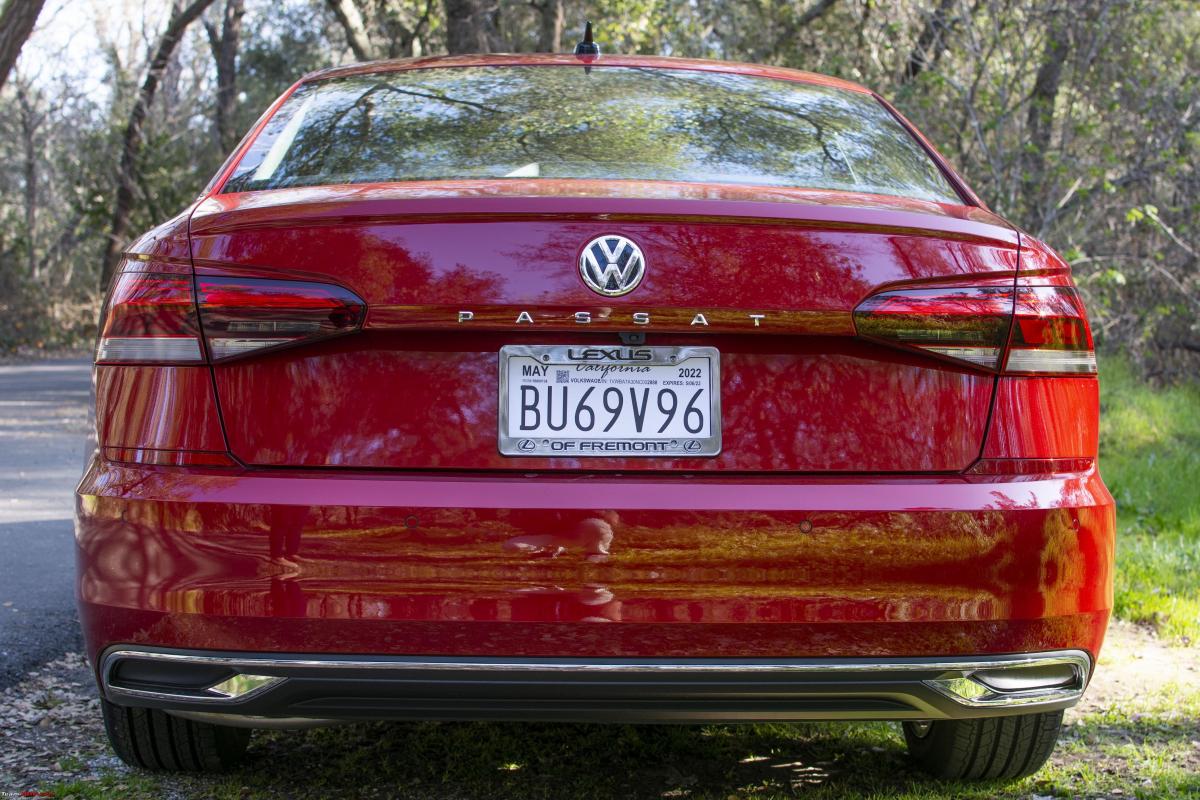 Interiors: The interiors are all black with wooden accents and piano black inserts. The dashboard is made of carbon fiber and invokes a sense of feeling when touched.
The switch controls for windows are chrome-tipped, enhancing the vehicle's look and premium feel. The gas and brake pedals are made of stainless steel. They are classy and give the car a sporty look.
Wheels: The car has 18″ special edition dual-tone 15-spoke alloy wheels with dimensions 235/45/R18. They look stylish.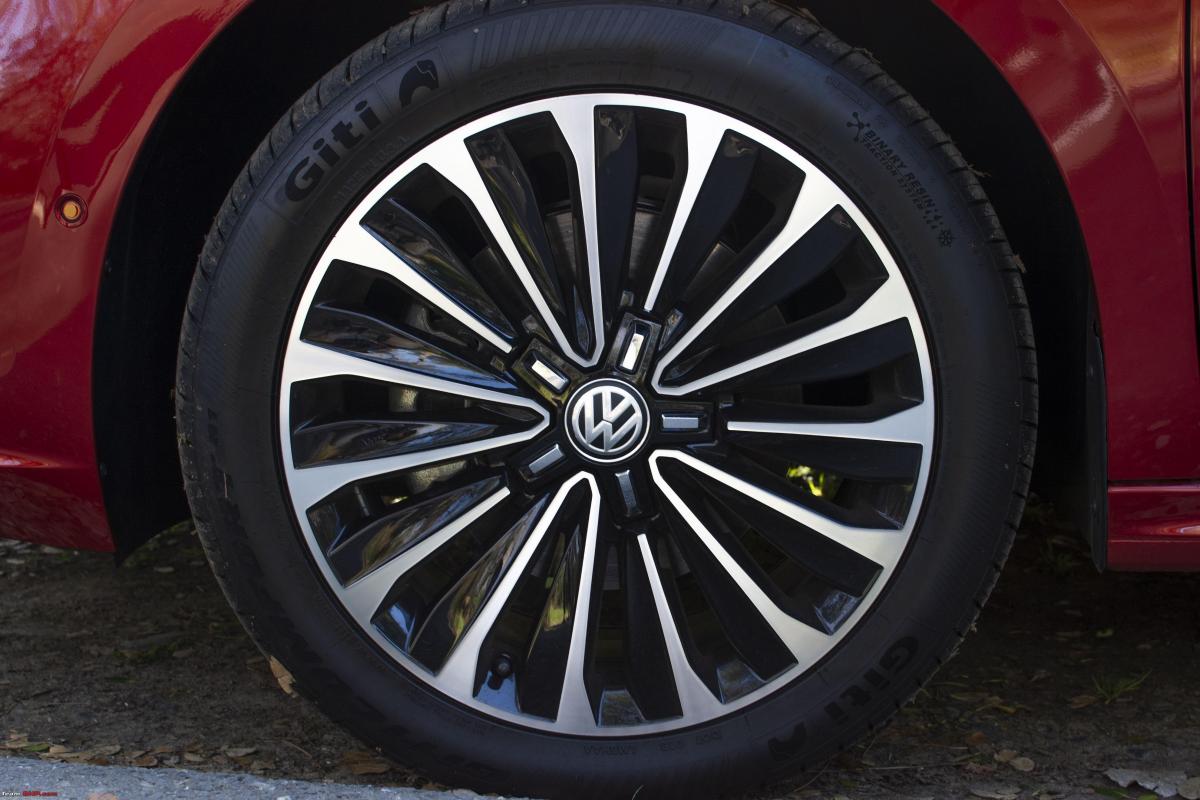 Park-distance control: The car has parking sensors on all sides that can detect static objects within five feet. A handy feature and the wife's most-liked feature of the car. The passenger side ORVM positions itself when the reverse gear is engaged to assist in parking.
Extraordinary Mileage: Mileage is something I never bothered in India. Here in the US, petrol is a lot cheaper. So never looked at the mileage aspects before buying the car. The EPA rating for the 2022 Passat was 24 miles per gallon (MPG) for city driving and 36 MPG for highway driving. This translates to 10.2kmpl for the city and 15.30kmpl for the highway. The city mileage is a little less than this, but the freeway driving yields me close to the 38-40mpg range (16-17kmpl). Sometimes I get more than 40mpg depending on wind direction. During my last trip, when I descended from 6500-500ft altitude, the trip meter showed >70mpg (>25kmpl) for close to 45mins and a 40-mile drive. Considering this is a 2-liter turbo engine, I feel the mileage is extremely efficient without sacrificing power. Also, I make fewer trips to the gas stations as the fuel tank capacity is 18.5 gallons (70 litres), giving me a range of 600-700 miles (900-1100kms) on a full tank freeway ride.
Mileage displayed on the MFD while I was descending from a hill station
Missing Features
Electronic parking brake: Despite the topline variant, VW could not provide an electronic parking brake. The hand brake lever and the asymmetrical dummy buttons in the gear shift panel make an eye sore.
Heated steering wheel: The steering gets chilly in the winter and sometimes to the extent that we can't hold it for more than a few seconds.
Ventilated seats: Last summer taught me that ventilated seats are essential in hot Californian weather. The summer goes as high as 45° C with nearly 100 days of hot weather over 35° C.
Wireless Android auto or Apple car play: VW offers wireless Android auto or Apple car play in the top two variants of the lower model Jetta. No excuse here!
A few things I did not like in the car and need improvement
Tire noise: Not sure of the source, i.e., whether bad roads or tire themselves. The noise insulation is average. The tires are also from an OEM I never heard of (Giti). I also observed that the freeways are not laid with smooth tarmac like the ones in India but have excellent markings and no potholes or speed breakers. I recently traveled in a friend's Merc C300 on the same road I frequently use and noticed that the noise is way better insulated in my Passat.
Indirect tire pressure monitoring system: The car can sense the loss of tire pressure in all the wheels based on the wheel rotation data generated by the ABS sensors. Though not as accurate as the ones with sensors on the wheels, it does get the job done.
Backup Camera: The rearview camera resolution sometimes appears good, but it needs improvement.
VW Car-Net App: The car came with a 5-year free subscription to the VW Car-net app. The vehicle is connected (Verizon network) and can be locked or unlocked with the app. The app also shows odometer readings, parking locations, etc. It has driving behavior scores based on acceleration, hard braking data, etc. But this never worked for me. The app never updated any scores. I spoke to VW customer care for several days and gave up. The app and its features are managed by a third-party provider (Bosch), and VW offers no support. I contacted Bosch several times but failed to get any resolution. I will not pay for this subscription once the freebie is over.
Features I felt redundant and never used
Navigation: The car has inbuilt navigation powered by Tom Tom, but pretty useless. The reason is that maps need to be updated manually once in a while. Live traffic update requires a Sirius XM subscription. Moreover, searching for a point of interest is a pain. The android auto excels here with various media integration.
Semi-automatic parking: The car has semi-automatic parking that can control steering, but acceleration and braking need user input. So far, I have never tested this feature.
Sunroof: The sunroof is not panoramic, and I rarely use it.
Remote Start: The key fob has a remote start option to cool or heat the car (depending on the outside temperature) before we get in. But the range is minimal, often less than 30m without any obstacles or interference. VW does offer a long-range key fob (300m range) but at an additional cost.
Auto high beam control: The sensor for auto high beams adjustment for the incoming traffic is too sensitive and turns to low beams when the incoming car is even at a ½ mile distance. Most of the time, I manually switch between high beams and low beams.
Accessories Installed
Thanks to being in the US, I can buy stuff from AliExpress. As soon as I got the car, I started searching for a good dash cam, and VW being a popular brand in China, also helped me with many options. I came across this model, which does not require tweaking any wires. It's a plug-and-play model that harnesses power from the rain sensor wiring for automatic wiper activation. The installation was simple, with no cables in and around the dash. The quality is decent enough but nowhere near the claimed 4K resolution. It has automatic recording capability in case of any suspicious activity. The app support is the worst, or fair to say non-existent. The advertised Wi-Fi direct also never worked. I have to remove the SD card every time to copy the footage.
Bad Experiences
Alloy wheel scratches
The dual-tone alloy wheels are elegant but prone to scratches due to the tire size provided. I already had scratches on a couple of wheels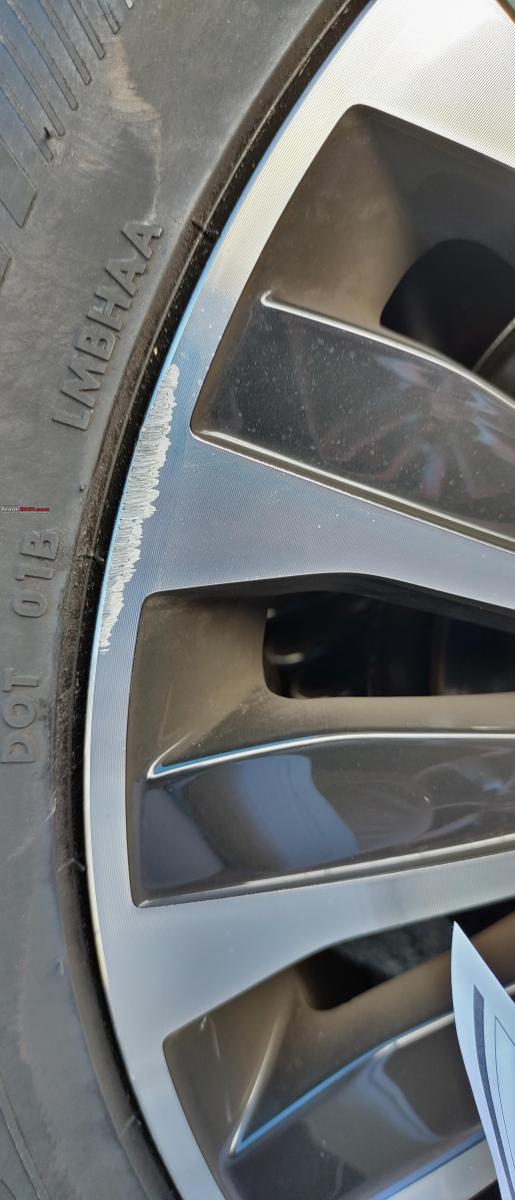 Windshield Damage
One fine morning when I was on a day trip to the nearest beach. I suddenly heard a sharp sound. I was on a phone call and was not sure what had happened. After a few minutes, my wife noticed a crack in the lower part of the windshield. Lack of knowledge and awareness, I kept going and later realized at the end of the day that the crack had grown considerably big. I thought my insurance would cover it, but I kept a 1000$ deductible for this event in the comprehensive plan. I did not expect this to happen, as even in India, with lorries carrying asphalt, it never had an issue.
I visited the windshield repair facility Safelite in Sacramento. The technician told me it couldn't be fixed with a gel and needed replacement. I called the nearest VW body shop for help, but they don't repair windshields and suggested Safelite. I asked Safelite for a quote, and they took details of the model and came to me with a 980$ bill. I asked them why it costs so much for a windshield installation when the price of the part itself is around 400$.
Here came the depressing news from them telling me that since the car has a lane assist feature with a camera mounted on the windshield, every time it's replaced, the camera needs calibration with lased guided checkerboards on a flat surface. This itself costs close to 500$ outside (VW quoted 800$ for calibration!). Since my deductible is 1000$, I decided to go with out-of-pocket expenses. I found an excellent technician named Shaud in Palo Alto who is an expert in windshield work. He quoted me 500$ for installation and sensor calibration, provided I bring the windshield. Luckily, I got a good deal on the OEM part at Stevens Creek VW, San Jose, and fixed it at his workshop.
Passat front camera being calibrated with a laser-guided checkerboard after the windshield replacement
Hard lesson learned, and I immediately changed the deductible to 0$ by paying more premium.
Car Vandalism
The next day, after fixing the windshield, another heartbreaking incident. I parked my car at the workplace within the university but outside the paid parking zone. When I returned to take the car in the afternoon, I noticed a big dent on the driver-side front door and minor dents on the driver-side rear door. When I first saw it, my intuition was this was not an accident or rear-ending, but I did not have anything to prove.
I called my insurance agent, and they said it comes under collision and has 500$ deductible as per my plan. I voiced my frustration and said I didn't collide with any vehicle, but they could not help. The next day I received mail from my building manager that they had video footage of someone kicking a red car in the parking lot and asked us to identify ourselves.
I immediately approached them and saw the footage, and was heartbroken. Some stranger kicked my precious red beauty mercilessly multiple times out of frustration or mental health issues. A moment later, I was surprised at how they got the footage. They said one of the Janitor had sent them the video. I met the Janitor and asked him how he got the video. He said his car had recorded. I asked him which car, A Telsa Model S! Tesla cars have sentry mode: 360 cameras monitor the surroundings all the time (if enabled) for suspicious activity. The trick here is it will save the pre-5mins footage only if it involves a Tesla car.
The person who vandalized my car also kicked the Tesla while leaving, so it automatically saved the 5min footage before he kicked it. All gods on my side, a very rare chance of occurrence, I got the footage of the incident. I immediately approached the insurance, and they converted the case to vandalism with a 0$ deductible. My insurance approved a quote of 1500$ for the work. I gave the car to the nearest VW-approved collision center (Niello Collison center) and got it repaired with an eye-watering bill of 6400$ for the two-door metal panels with parts accounting for 2000$ and 4000$ for labor.
The cost is only for the metal sheets and does not include the doors' electronics or glass panels, which were not damaged. They refused to remove the dent and went ahead with the replacement of both door panels. The rear door has a small dent which I struggled to image for insurance purposes. I honestly felt bad for the insurance company and was surprised that they approved all this with photos. This would have been repaired in India for a mere 400$ for the work in the VW showroom.
Engine Oil Consumption
In less than 13500 miles (~20000kms), I had to top up the engine oil four times. This is annoying, but the VW service advisor assured me it's quite common for a new engine to consume oil. The issue persists even after the first service at the 10000 miles mark.
In conclusion, I am a happy VW Passat owner. I made the right decision when the market prices were volatile and super expensive. There is always a smile on my face whenever I am driving it. It has more features than I had wished. I hope to keep the car with me as long as I stay in the US. I am looking forward to an incredible journey together. Thanks for reading my post.
Check out BHPian comments for more insights and information.