The car was extremely torquey, the kickdown gives me chills. The transformation of the car just after this tune was huge.
BHPian dieselhead01 recently shared this with other enthusiasts.
Hey, I hope you're all doing great. This week has been a rollacoaster ride for me. Had two incidents which happened outta nowhere and was amongst those things that I wanted to do at the earliest, that too both got done in the same day. So first let me get to my favourite and the best part, the remap.
Just in case you missed my previous thread: I own an 2020 Octavia 2.0 TDI DSG.
This was a step, which needed a lot of thinking as I was already running on remap. The car was running on a Stage1 ECU remap from TuneOTronics. As I mentioned in my previous thread the map was good, but it always made me feel that something was missing, and always felt like I wanted more power, punch from the map, as I knew the car was capable of much more. I drove a lot of tuned 2.0 TDIs and felt they performed better. The map was too linear and felt like stock, although it was definitely faster, it didn't feel like a proper 'blast to drive' because the stock itself was a great powertrain, the low end torque excites you. One day, a friend of mine picked up a 2016 Wolf'd Jetta DSG from a person he knew, he got a great deal, apparently the car was already tuned by the previous owner in Cochin, and my friend was absolutely delighted to hear it was tuned (Stage1+ ECU). Once he brought the car back to Bangalore I took a small test drive in it, to see if Wolf Performance made a difference from the map my car was running on. That one test drive changed my perspective.
The low end felt so wild, it felt very punchy and aggressive, just dabbing the accelerator in D-mode, it gave me chills and the car just plunged forward with urgency, and it made me fall in love immediately. I was blown away by how the car was pulling relentlessly even in the mid range and top end. I was outta words.
I would like to thank BHPian @sangam_mm93 for helping me to choose the correct map for my car and also guiding me to do the right thing. I also sat once in his car which was a stage2 Wolf'd Jetta, and it again just increased my level of excitement. It was something else, which cannot be put into words, 'fast' and 'torquey' was an understatement. The car pulled like a train, right from the low end. Plus the custom muffler on his car was a music to the ears. After getting some real experience on Wolf cars, I had finally come to Coimbatore, where I went for a small spin with my friend who owns a manual Wolf Octavia TDI, and driving both mine and his car b2b, we arrived at a conclusion that my car missed out on a lot. His car just felt much better to drive, much powerful, and had the boost all across the RPM, was aggressive and outright a blast to drive.
So after a few weeks of thinking, I set my mind, and finally decided to go ahead with the Wolf remap, at our very own well renowned Coimbatore Wolf dealer, Garage89. It's the exact same place where my friend did his remap.
So in a week, I called Garage89 up and told them that I want to get the remap done, and we fixed a date. It was delayed due to something, which I'll be mentioning below in a while. Mr. Raaj and Mr. Kamal of Garage89 were absolutely amazing, they explained the entire process; erasing existing map, and reflashing the new tune. They were calm and patient, they were willing to listen and understand all my requirements on the remap, and they told me they'll make sure all my requirements for the map is met. I specifically told them I'd prefer the mid range and top end to be much stronger, and overall power delivery should significantly improve, and the map should be very punchy and aggressive. I asked for a 'STAGE1+ ECU & STAGE2 TCU' remap, squeezed out to the max, provided that reliability won't be affected. And the process took almost 3-4 hours, with all the flashing, real life testing after each step, and any minor changes to be made. The map was finally ready. The car is now Wolf'd, STAGE1+ ECU and STAGE2 TCU.
Now talking about the car being Wolf'd:
There's only one word I could think of, and that is, 'UNBELIEVABLE '. The car was just unbelievable. Another word which kept coming to my mind is 'TORQUE'. The car was extremely torquey, the kickdown gives me chills. The transformation of the car just after this tune was huge. There was a world of a difference. Right from the low end, it felt so wolf and aggressive. It pushes me back to the seat like a 6 cylinder, and I'm not even exaggerating. It was really punchy right from the low end, and it impressed me and I got chills every single time I drove it. And the car was relentlessly pulling even in the top end like a petrol, doing silly speeds, triple digit speeds like it was nothing. The older tune felt like stock in comparison to the new tune. This was one of the best purchases I've ever made, I mean the tune. 0-100 comes up in no time, haven't used a draggy until now, will post it soon. I'm expecting a flat 7 second to 100 kmph, with a proper launch. I feel it's easily possible. The launch control after the TCU, is just amazing. The DQ250, is a piece of art. And the kickdown was just out of the world, it gave me chills and there is no exaggeration here. The kickdown in D-mode was insane, it just pulls ahead with all the torque, torque is a word which I'd want to use several times. The car is absolutely TORQUEY. There's no explanation to how much I loved the tune, I guess you could see from my words and write up that I loved it. Stage2 coming soon is for sure. I can't wait to see how that one turns out. Until then, I'll enjoy the tune to the maximum, god bless.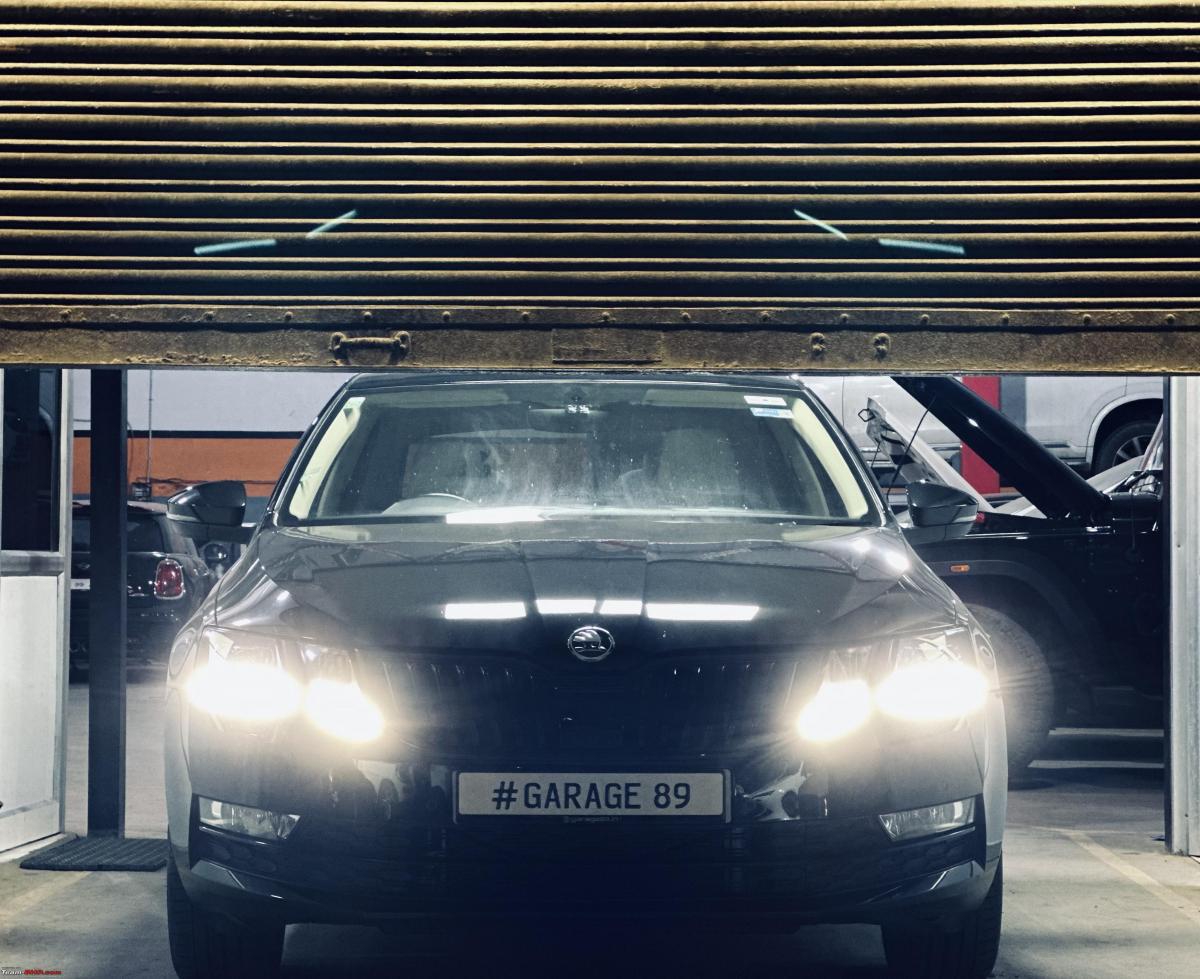 In the middle of all this, I had given my car for a ceramic coating. Being a black car, ceramic coating is a must is what I feel, for our road conditions. Black colour looks the best when maintained properly with at most care. So I finally got it done it at Luxi Auto Care: Modesta, Coimbatore. A couple of friends had got their ceramic coating done at the same place, so I decided to go ahead to give it a shot. The total process took a little more time than expected, but the results were spectacular, and I was beyond impressed by their work. I had gone with their BC-08 package, which included exterior ceramic coating, before which a proper paint correction and detailing was done, and after thorough application of the coating and removal of all the swirl marks, water makes, scratches and imperfections, the end product was, the car looked better than new. Pardon me, these are the only pictures I have, I'm yet to receive the ones that was shot on a DSLR, will post them soon.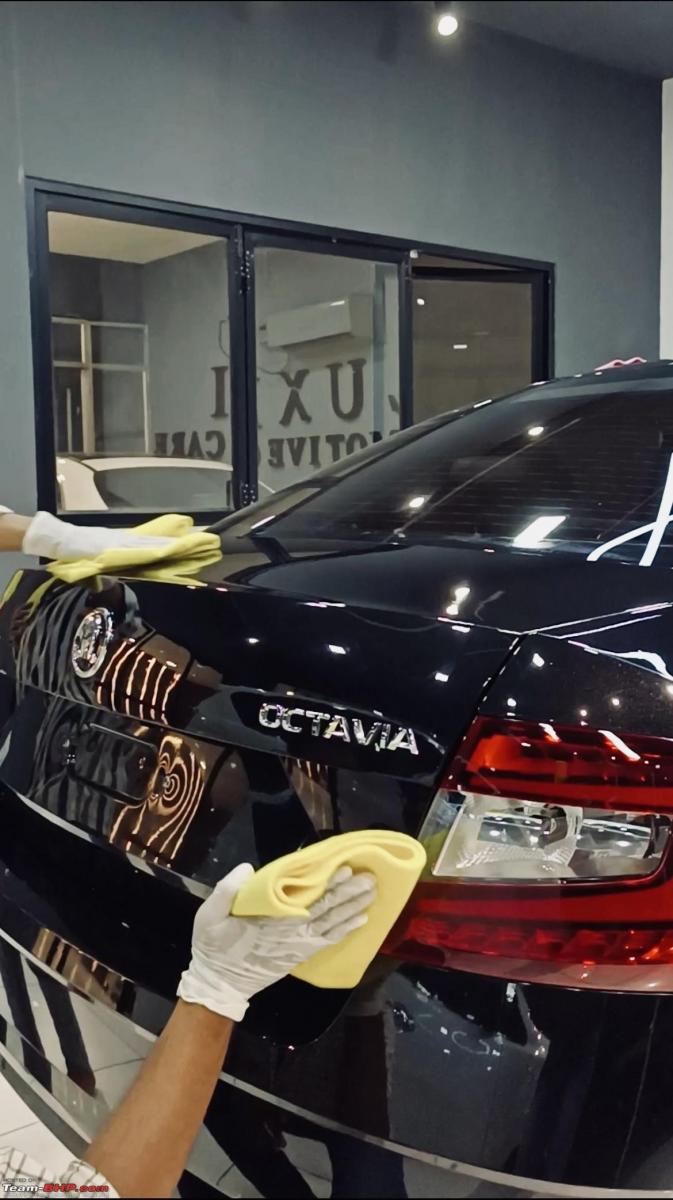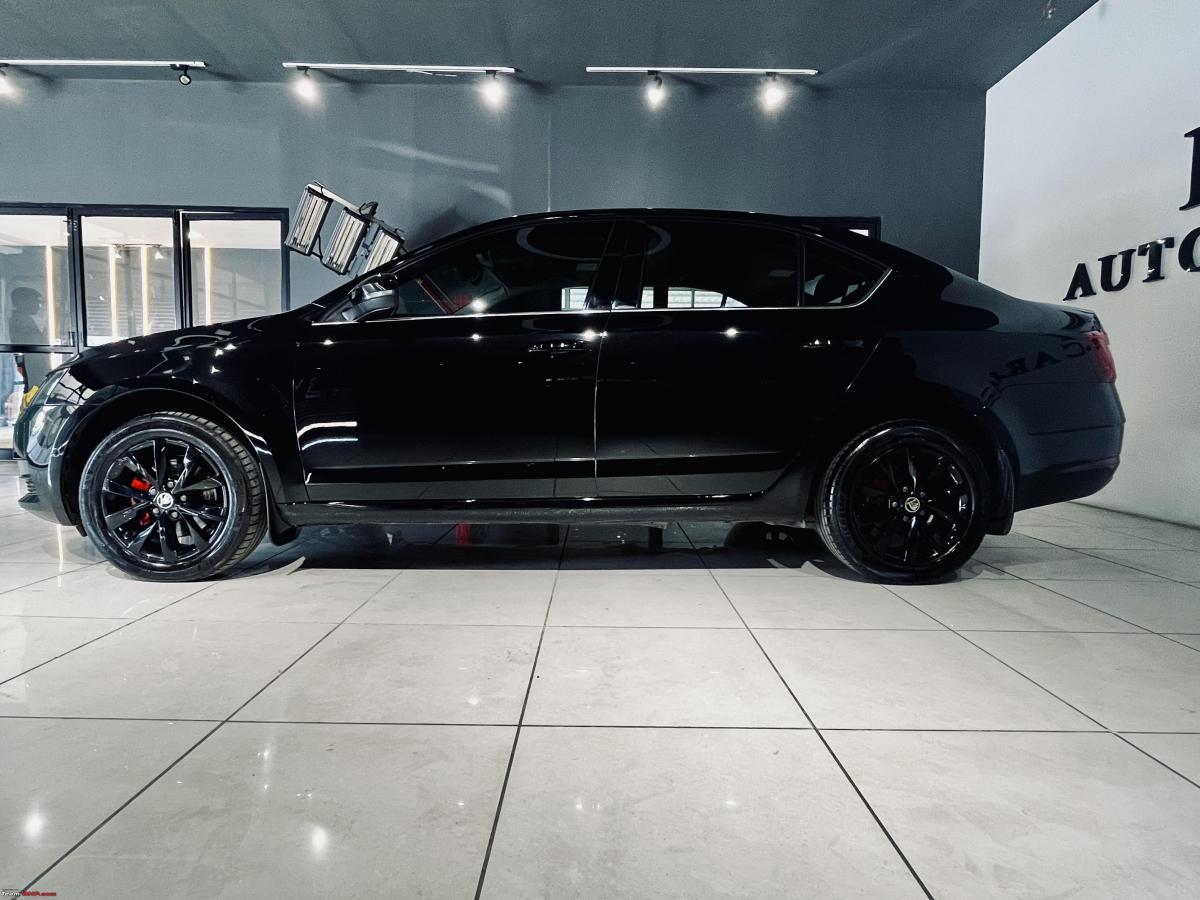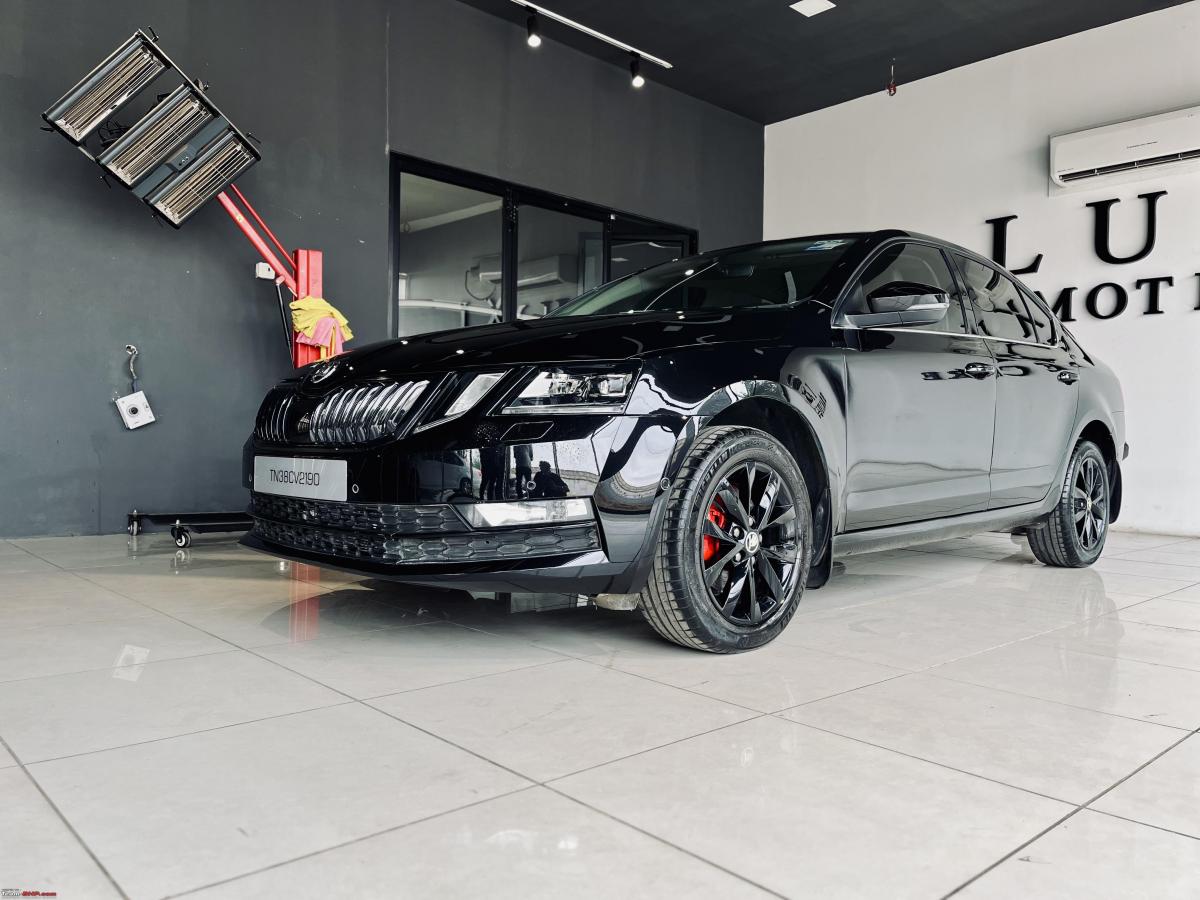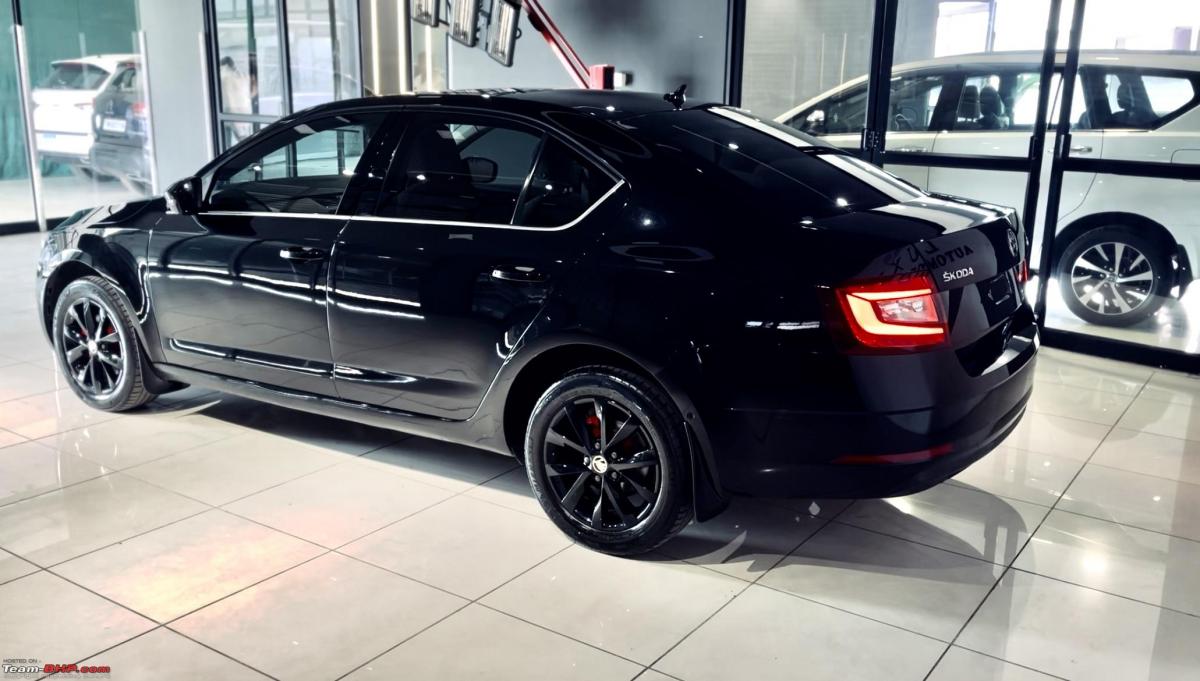 Read BHPian comments for more insights and information.