[ad_1]

The Performance of the RE Himalayan in hilly terrain was commendable. Low end torque and sorted suspension is all you need in the hills and bad roads.
BHPian Shubhendra recently shared this with other enthusiasts.
We few friends wanted to go to North East India for a long time but we never got the luxury of 15 days to visit these beautiful states. Also, we always use our own vehicles for these trips hence even 15 days were not sufficient to cover a few good places in NE. Travel time from Pune to Guwahati and back itself is 6 days.During the last few years, we always used to start with a plan to the North East and end up going to different places in the upper north.
But as luck would have it, I got the window of two weeks along with a friend who is a de-facto travel buddy. We first finalized the dates of our travel and decided to prepare an itinerary later. While we 2 friends were in initial tasks another friend showed interest. None of us had ever been to Guwahati and further and we were not sure about places we wanted to cover. We only knew one thing: we have 16 days and we want to cover a few states of NE. As it was a last minute plan, with actual travel within 2 weeks. The first thing we did was to book flight tickets to freeze the travel dates. We intentionally decided to book non-refundable tickets to ensure none of us back out at the last minute.
Next important task was to get hold of good rental bikes. Most crucial part of the plan is to get good bikes to avoid your entire trip getting into jeopardy. I had heard horror stories about bike rentals in the North East although I have had good experiences in Uttarakhand. One more criteria for us was to get Himalayan for us as we all own Himalayans and road conditions in NE definitely needed an adventure bike. Same model of the bike would also help in carrying spares and consumables common for all bikes. Through some research and contacts, came across a car and bike rental company called 'Kohua bike rentals' run by a gentleman Danish. He is a calm and straight forward guy who promised us 2021 Himalayans at competitive rates and valid RSA (RoadSide Assistance). He also agreed to get the saddle bag mount fitted in each of the bikes at some nominal cost. Considering the roads we traveled, weather conditions and remoteness of places without good bikes, the entire trip would have been a disaster. In fact, we came across a few riders who were suffering because of badly maintained rented bikes.
Last minute trip plan didn't give us enough time either to plan and prepare. But based on past riding trips and monsoon situations in the North East we packed our clothes and belongings in a few layers of plastic and avoided extra clothes and accessories.
Few of our friends were aware of trip and one of my close friend decided to join us just 3 days before our scheduled departure from Poona. Now we were 4 riders and needed an additional bike. Danish from KOHUA Bike rental was kind enough to get an additional bike in a moment's notice and that too a brand new RE Scram 411.
We hadn't booked any hotel and had a very vague and highly ambitious itinerary which was not practical. Why impractical, because we were not sure about road conditions, general weather conditions, elevations etc. Although based on some internet searching, I plotted a few places in GMaps (assuming gmaps duration estimation is accurate which wasn't) and prepared a day wise itinerary. Meanwhile I also got in touch with a bhpian (Wanderer4x4) who gave his valuable inputs but by this time we were about to start the journey. But his suggestions helped us make up our minds later on to cover a region thoroughly rather than aimlessly covering random places.
Accessories carried for the trip: Other than standard clothes, riding gears we carried Helmet bluetooth devices, power bank, portable tire inflator, a torch, 3M double sided sticker, medical kit with all basic medicines etc. which came handy a few times , additional bungee cords, zip ties, rainsuite, few basic tools (other than what was already provided in the toolkit).
We also carried 5 photo copies of Adhar, Passport, DL, passport size photos.
As our initial itinerary was all over the place, I am not sharing it but below are the places we covered with refinement to our itinerary every other day.
Day 1: Pune to Guwahati
Day 2: Guwahati to Bomdila via Bhairavkund & Shergaon
Day 3: Bomdila to Tawang via Sela Pass
Day 4: Local Tawang sightseeing and permit for Bum-la
Day 5: Sungester lake, Bum-la, Sungester lake, Zemithang and Tawang
Day 6: Tawang to Dirang (Nuranang waterfall)
Day 7: Dirang local sightseeing (Chug valley, Dirang monastery, Sangti valley, Mandala top)
Day 8: Dirang to North Lakhimpur
Day 9: North Lakhimpur to Dambuk via Pasighat
Day 10: Dambuk to Hayuling via Tezu
Day 11: Hayuling to Kaho
Day 12: Kaho to Namsai
Day 13: Namsai to Pangsau Pass to Margherita
Day 14: Margherita to Kaziranga
Day 15: Kaziranga to Guwahati
Day 16: Guwahati to Pune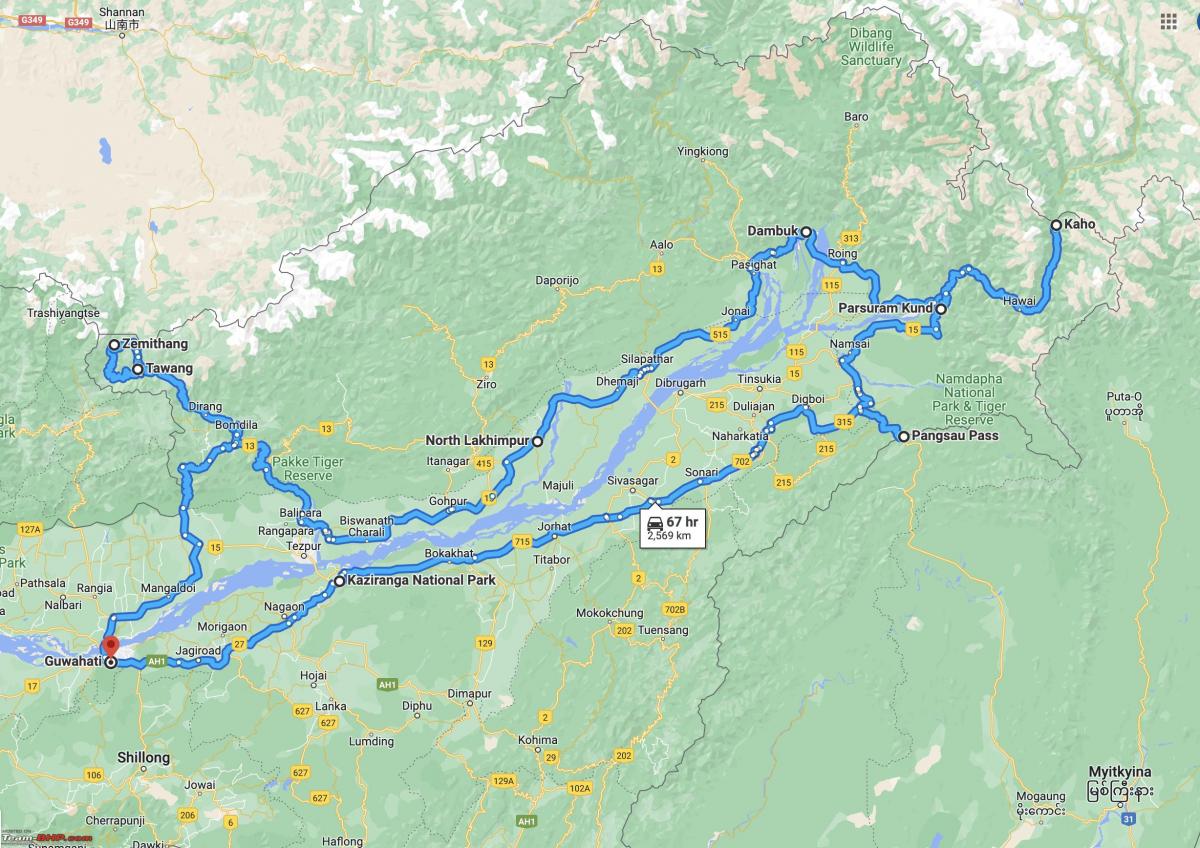 Day 1: Pune -> Chennai -> Guwahati
Because of the hectic previous day, we somehow managed to reach the airport on time for our flight to Chennai. Journey from Pune to Chennai to Guwahati was uneventful but consumed the entire day and we reached Guwahati at 6:30 PM.
Beautiful sunset
Waterlogged Guwahati
Plan was to go directly to the bike rental office, pickup bikes and head to the hotel. Only glitch was that we didnt book any hotel in Guwahati as none of us got time to search and finalize the place. A home stay suggested by Danish was full along with few others. During transit in Chennai we used the time to book our stay. Most of the places in the main city area were booked. But we were able to get a homestay on a hilltop overlooking the Brahmaputra river on the suburbs of Guwahati. It came as a blessing in disguise as the main Guwahati city area is very crowded and noisy. And because of recent rains it was not clean either. Whereas this place was, though not far from the main city, had its own charm of an old house with a lot of greenery, good food and calm surroundings.
Guwahati airport is although small but aesthetically done and an organized airport. It took us more than an hour to reach the Danish's office in the main city because of rain and under construction roads. He was waiting for us as we reached his office way past the closing time. We quickly completed the documentation for all the bikes, loaded our saddle and tank bags and were ready to move to the homestay. But we had a problem. Our fourth friend was scheduled to reach Guwahati next morning and we were 3 people who needed to collect 4 bikes. It was decided that we will go to our stay, finish our dinner and then collect the fourth bike from a place closer to our stay.
Took us almost 30 minutes to get the bikes fueled up because there was just one fuel station in that locality with too many vehicles and zero lane discipline. Got to know that fuel pumps were closed the previous day because of some reason.
It was almost 10 PM by the time we reached our stay in incessant rain and chaotic traffic. The main caretaker was a nice talkative fellow which helped us to get settled quickly and after a tasty dinner we stopped out to collect the fourth bike. While returning it started to rain very heavily and we couldn't use gmaps and reached the opposite side of the hill. It was quite a task to memorize the route, cover some distance, find a shed, and again memorize the route. Roads were steep and narrow and there was no one (it was post mid night) to guide.
This experience was just the beginning as we reached Guwahati the previous day of recent floods where few people lost lives. It rained throughout the night but we slept peacefully in AC not knowing the things to come in the next few days.
Old palatial bungalow had its own charm
Highlights of the day:
Condition of bikes: As promised all the bikes were less than a year old with Valid RSA. The Scram 411 was a few days old still waiting for the number plate to be delivered ! 2 Himalayans had around 10,000 kms on Odo, one himalayan had 3000 kms on Odo and Scram had around 2000 kms on Odo. Bikes were recently washed, servicing done and no damage, saddle bag frames were installed, tyres were in good condition (except for rear tyre of a bike). I have rented bikes in the past and fortunately never had a bad experience. But i had heard lot of negative feedbacks from friends in last 2 years hence I was not at all confident until the end of the trip
Homestay at Guwahati: Although this homestay was our last preference and we had informed the owner only to confirm once we saw the place. We even tried a few more hotels after landing in Guwahati but couldn't get a good hotel. Once we reached the place, it was love at first sight. An old palatial bungalow with old/classic furniture and fitting, lots of trees & plants everywhere, very courteous staff, spacious and clean room and very nice food. We loved the place so much that during our return journey we stayed at the same place again and when we called the caretaker to confirm our return stay, the first thing he said was 'Welcome home'. These little things always blow me over fancy places with minimal personal touch.
Day 2: Guwahati to Bomdila
Today's route: Guwahati -> Bhairav Kunda -> Shergaon -> Rupa -> Bomdila
Total distance traveled: 270 kms
We woke up early in the morning when our fourth friend arrived. It was still too early for us hence we resumed our sleep and finally woke up by 9 AM. Our first destination was decided, it was Tawang and Bum-la. Why Tawang? Because it was the most famous tourist place in the area and everyone suggested it. But, we didn't want to go via the standard Tezpur-Bhalukpong route and decided to take Bhairavkund – Shergaon – Bomdila road. Why this road? Based on the local feedback it is a more scenic, less traffic route which also takes you to the India -Bhutan border. As we had to apply for ILP for Arunachal Pradesh, we had booked a hotel in Tawang for a day and had put his contact details in ILP (mandatory to put local reference in ILP).
We all were excited and upbeat to start the journey. Morning rain was converted into drizzle and the weather cleared. Before coming to Guwahato, we all had packed our saddle bags randomly and had to spend quite some time to get things organized, remove riding gears, helmet and communication devices, rain coat etc. We were able to start from the place by 11:00 AM. By the time we reached the first fuel station to get the fourth bike fueled up, clouds cleared resulting in hot and humid weather (similar to coastal weather). Although it was Sunday but we had to spend almost an hour in maddening traffic, sultry weather and under construction roads (Assam's longest flyover is being constructed in this area https://www.guwahatiplus.com/guwahat…id-at-maligaon )
It was past mid-noon when we crossed the city limits of Guwahati, had to take a small juice break.
We started towards Bhairabkunda (India – Bhutan border). The plan was simple, ride as much as we could till evening and then stay somewhere. The only problem with this plan was the time zone difference. We from west of India are accustomed to late sunset times whereas this part of India gets into the dark night by our evening time. 30 minutes into our ride and clouds got darker and darker. Within a few minutes, it started to rain heavily. We got dressed up with rain gear and resumed the ride. After Guwahati's maddening traffic and heat, we were enjoying the rainy weather, cool breeze and open roads.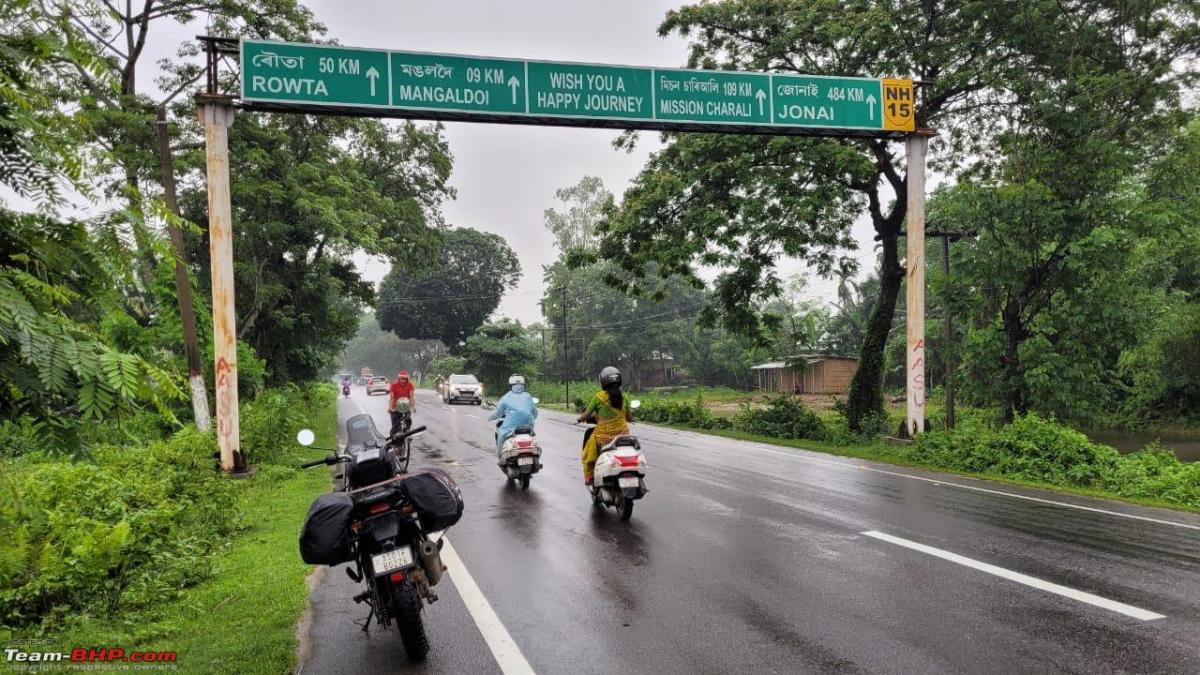 It was around 15:30 when we reached a small village before Bhairabkunda. We had to lubricate chains and I had to tight bolts for Aux lamps. Luckily, there was a small shop there selling fast-food and Tea. That's all we needed for a quick lunch.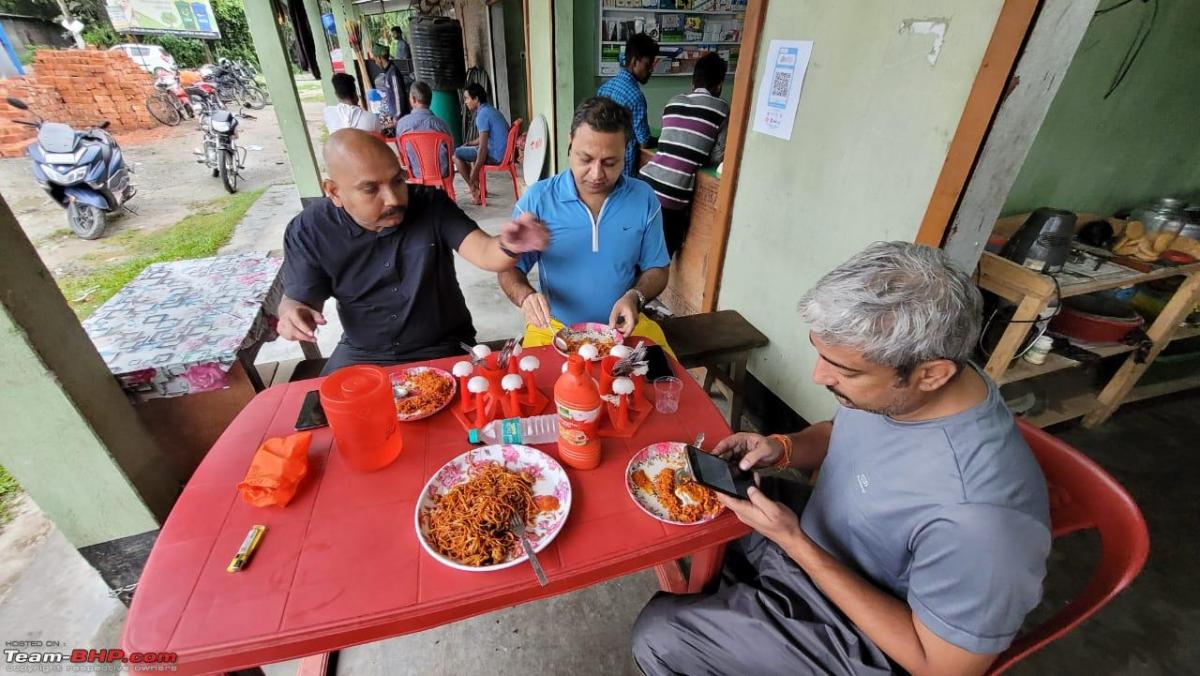 Soon after, we reached Bhairabkunda, which is in Assam but shares an international border with Bhutan and a state border with Arunachal Pradesh.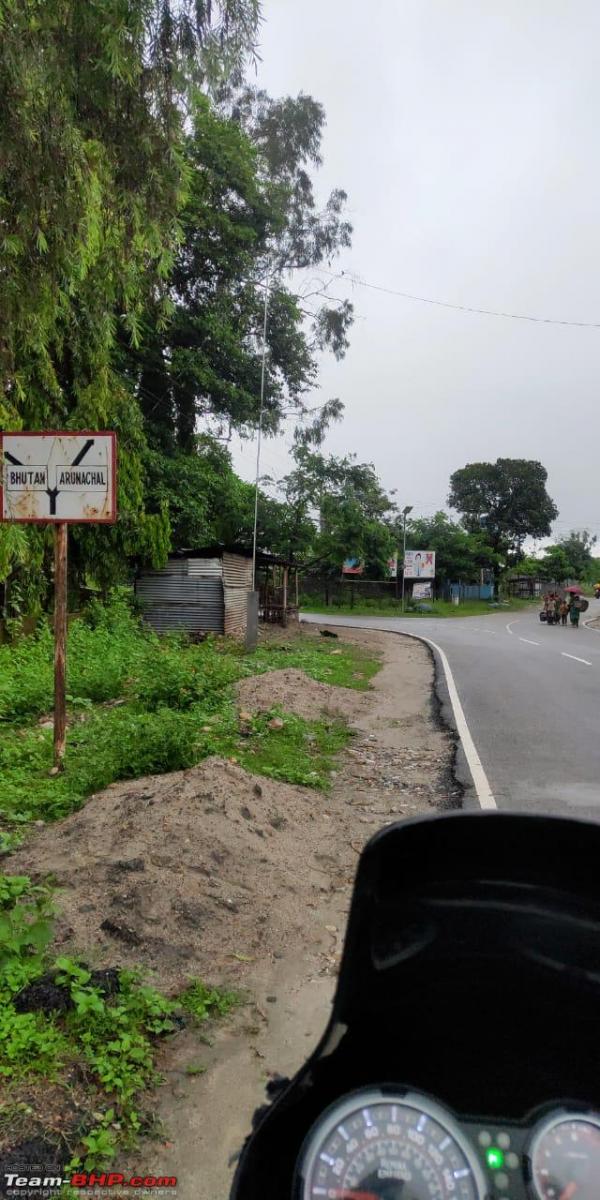 We spent some time there reading boards outlining the importance of the place and interacting with a few young locals from nearby villages who had come there for a Sunday picnic. They shared their experiences when they had traveled to Bombay. We spent some time interacting with them.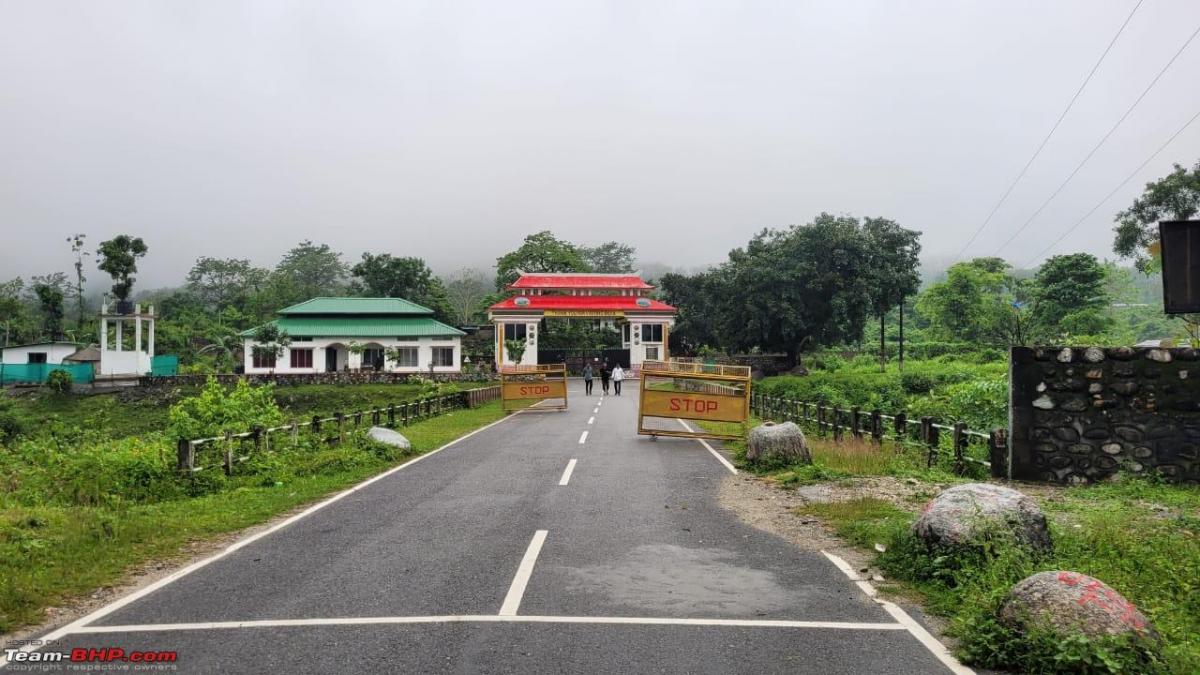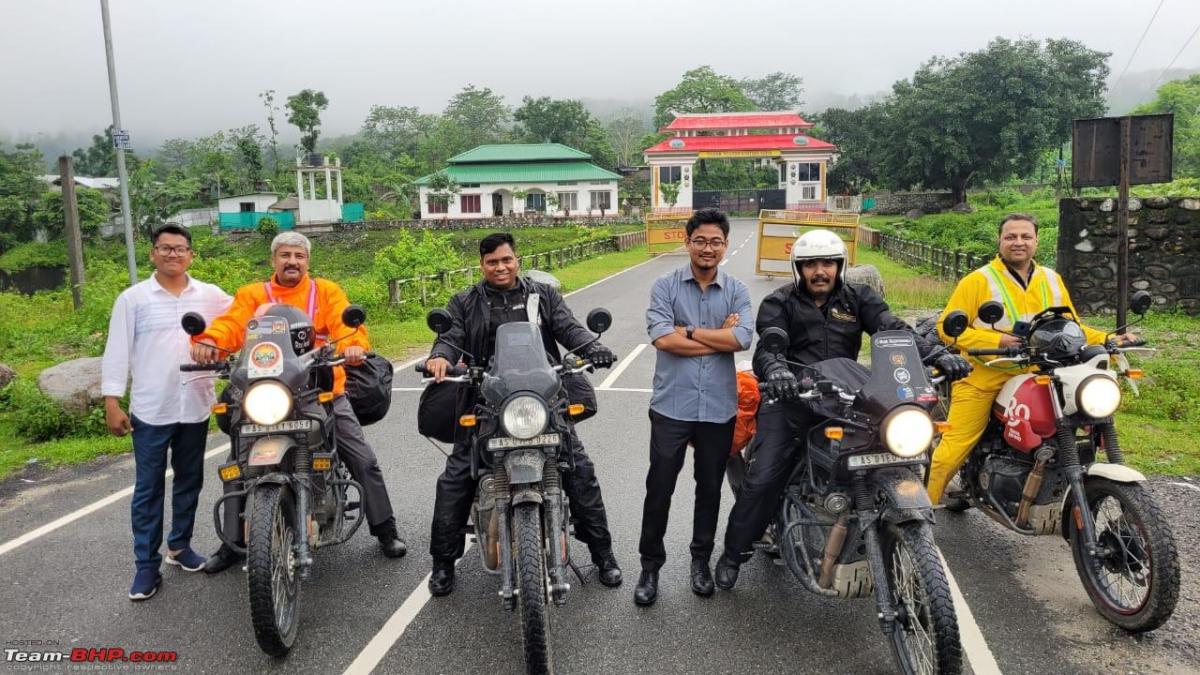 Rain had stopped by the time we resumed our journey towards Shergaon. Arunachal border checkpost is hardly a few kilometers from Bhairabkunda. It was almost 5 PM and we wanted to reach at least Shergaon for tonight's stay. It was a flat land journey from Guwahati uptil Bhairabkunda but from here we started a hill climb towards Tawang. Weather was amazing with lush green surroundings, hills partially hidden in clouds and perfect temperature.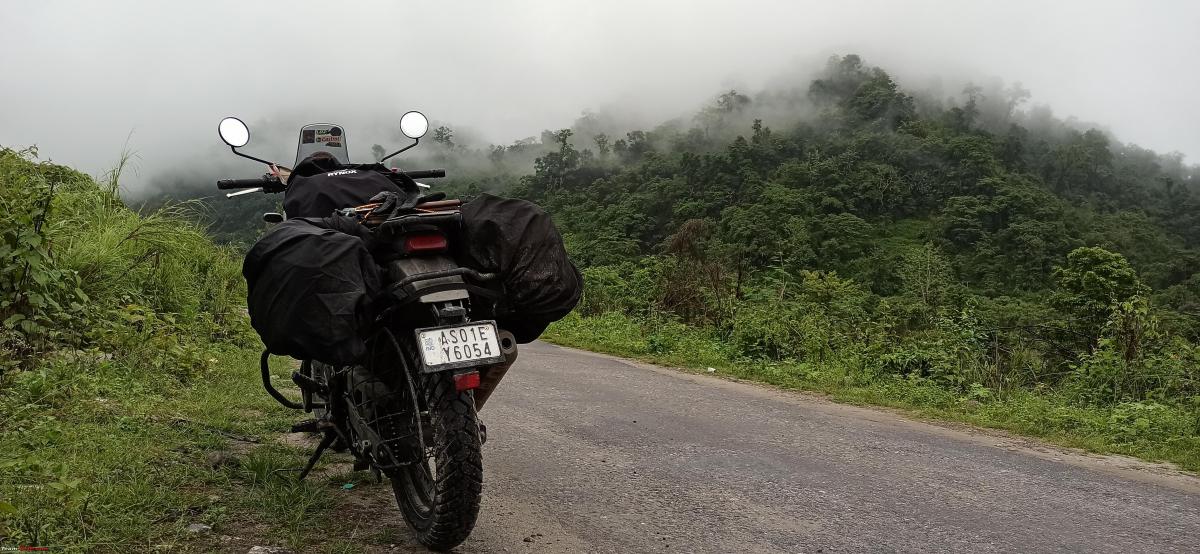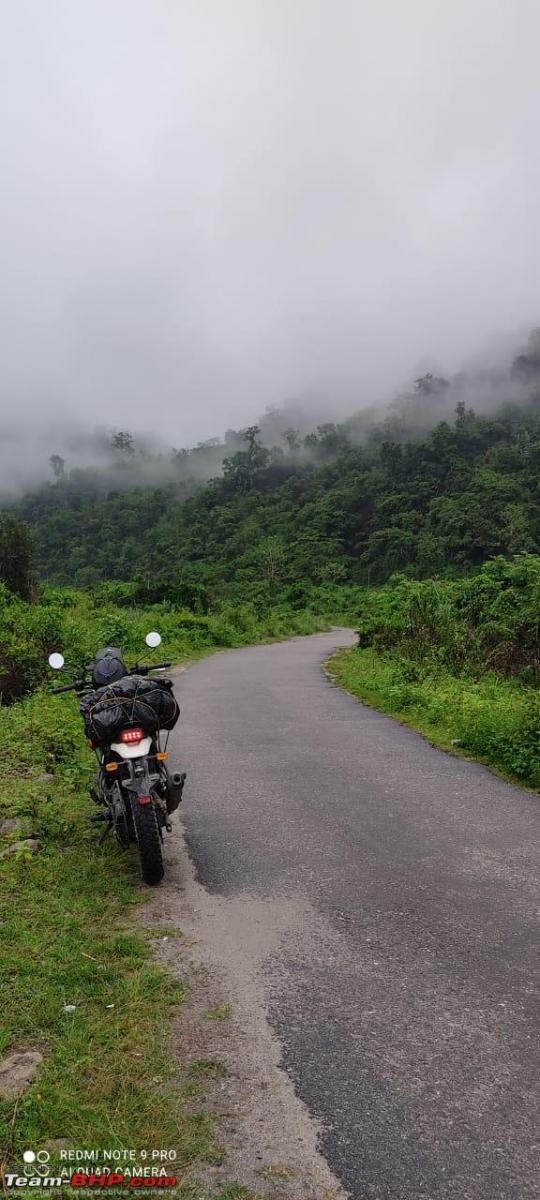 After submitting a copy of our ILP and other details we entered Arunachal. Roads were in bad shape from the Arunachal border up till the first village (Amatulla) we crossed. After that village, roads became good and soon we started hill climb with good roads.
Few minutes into the ride, it started raining again. To make matters worse, a thick fog blanket surrounded us as we reached higher altitude.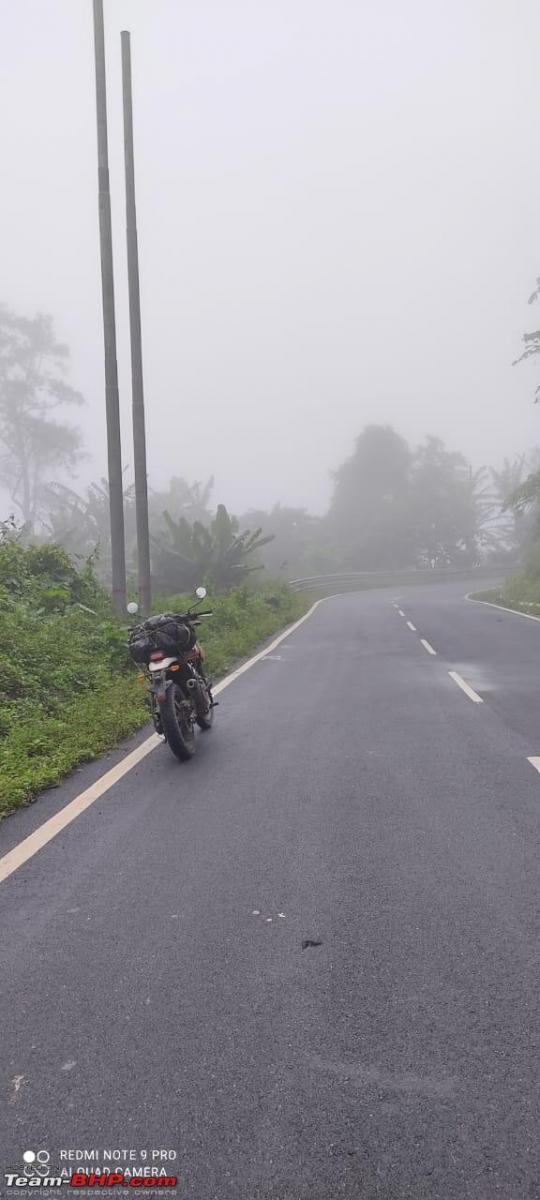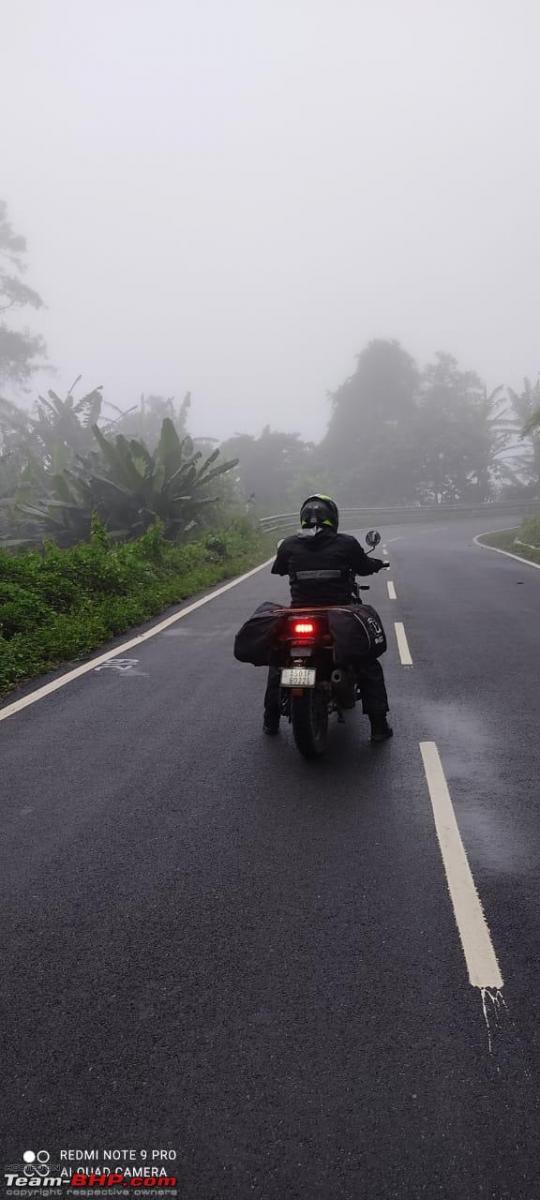 Coming from the hot weather of West India and this being the first day of our ride, we were loving the weather and rains. Little did we know that it will be a daily routine for the next few days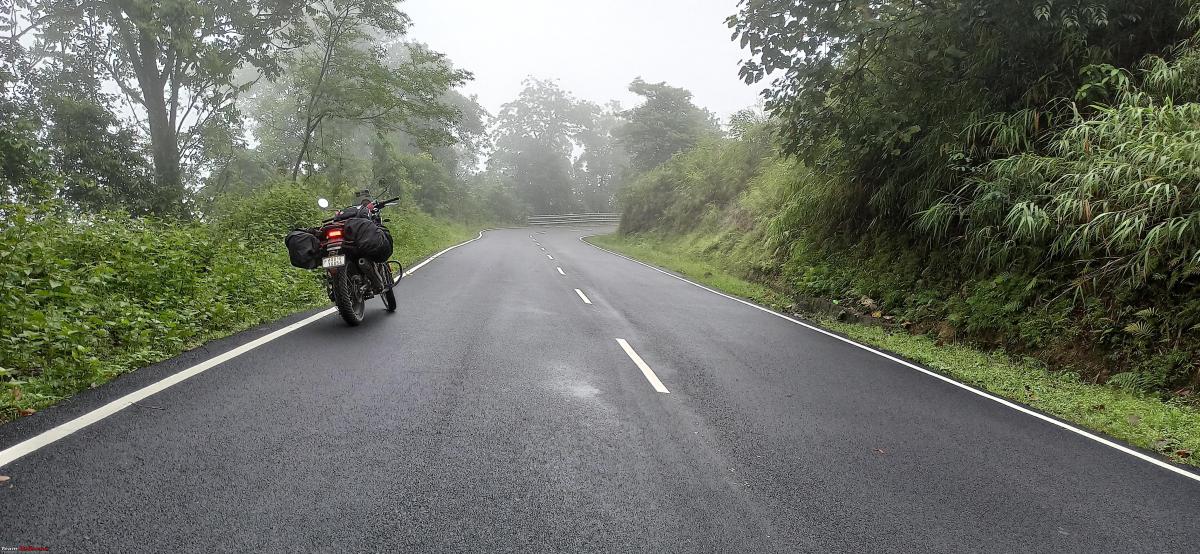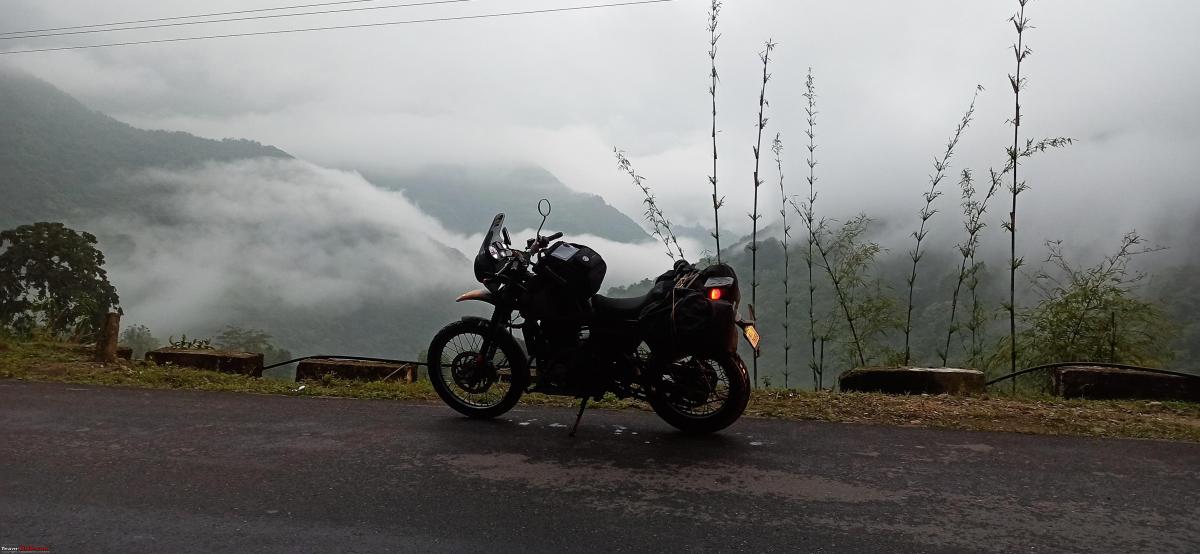 We reached Kalaktang just before sunset. After a tea and snacks break we pushed towards Shergaon. Rain and fog was getting intense followed by dark night. We 4 friends have ridden together in the past on various rides and have the same temperament and riding style. It helped us to ride together at similar speed without losing sight of anyone. My helmet communication system really helped us to cross Guwahati together but it became problematic thereafter. If any device moved out of range then we had to do resync to connect to the other device again.As we were riding in the hills it became impossible to keep the devices connected throughout. The good old convoy rule helped to keep our small flock together.
We crossed Shergaon & Rupa and were aiming to reach Dirang but there was a problem. All the bikes were in reserve and only fuel pump in Bomdila didn't have fuel. Though, we crossed two fuel stations around Shergaon but we ignored them thinking fuel would be available in all the towns. It was 9:30 PM when we reached Bomdilla. Temperature was 8 degrees celsius but it felt like 5 degrees as we were wet. All the shops and restaurants were closed. After a few tries and run-arounds we finally got a hotel to stay who was also ready to serve us dal-chawal. We all were drenched in water since afternoon and a nice room and hot meal is all we wanted. Bonus point of the stay was it had a personal covered parking. In hilly areas, and especially in small hilly towns, its a luxury to have private parking and that too covered. In the absence of it, we would have had a hard time unloading our luggage and keeping the bike secured with enough space to put our rain gear for drying. Being the first day of the ride we had some difficulty in removing all the luggage from the bike but it became a routine after a few days and we came up with few innovative ideas to tie and untie luggage. After a much required hot shower and dinner we called it a day. It continued to rain throughout the night.
Learnings from the day:
Sun rises up early in the morning hence start early and ride throughout the day. You will be able to cover more places in daylight, will be able to search for a good place to stay and probably good food as well.
Nothing can replace gumboots in rain. Our riding boots were drenched in water on the very first day and we all had to buy gum boots the next day.
Not single, not double but triple layer plastic covering is required for clothes.our clothes and accessories inside saddle bags were under plastic bags and saddle bags were covered through rain liner but incessant non stop rains reached to unimagined places inside the saddle bags and us
Memorize important places enroute for the day to avoid wasting time in getting mobile out of 3 layers of rain protection and then asking for directions.
Your gadgets can die anytime because of any reason.
Follow convoy rule to avoid waste of time in waiting and finding other riders
Fill your tummy and vehicles fuel tank at the first opportunity in remote places
If you are not sure about places to visit in Arunachal but want to apply for online ILP, you have an option to select all checkpoints on the map and apply. We were not aware of it, and initially we had applied only for Tawang & Bhalukpong circuit. But we later realized this option and applied for ILP for all the districts in Arunachal for our travel duration
Highlight of the day:
Locals we met at Bhairabkunda, very jolly people who even invited us for dinner.
Performance of Himalayan. Low end torque and sorted suspension is all you need in the hills and bad roads.
Continue reading BHPian Shubhendra's travelogue for more insights and information.


[ad_2]

Source link