I don't see the point of paying so much money for all this connected car tech & stuff because when it really matters, it turns out to be absolutely useless.

BHPian Aejaz recently shared this with other enthusiasts.
Hi BHPians,
I have been a happy owner of the Hyundai i20 Turbo DCT Asta (O) for a year and a half now. I have been kind of cribbing about how I couldn't get an N-Line as it launched barely 6-7 months after I bought my car. But I did love my car nevertheless.
I usually take my car for long drives once in at least 3-4 months and keep my car in excellent condition by getting regular checks done. I had been to Chennai about 3 weeks back, driving from the western coastal city of Mangalore. The roads from Bangalore to Chennai are usually very good and although it's a little boring driving on a straight highway, it's better than driving on the pathetic road from Mangalore to Bangalore. The ghat section and the roads leading to the ghats and away have been having road works since time immemorial.
So anyway, after the week-long holiday with kids and family, as I was returning from Chennai, I had a tyre blowout! This happened around 4 pm. For a second, I couldn't figure out what had happened. It was in a fraction of a second, and before I could get to grips with what went wrong, the car veered to the left and I hit the concrete road blocks which are kept as a divider on these concrete roads being laid around Hassan.
It was quite chaotic. The impact was on the front left and fortunately, the airbags deployed, and I was safe. My family and kids were in the rear seat and got tossed around but thanks to God, we could walk out of the car after the crash. We were fortunate enough not to have any serious injuries. There was a slight drizzle, and I and my family are stranded on the highway, but fortunately around a town where people came to our help immediately. On-lookers had noticed the front left tyre burst and asked me if all of us were ok.
Now, coming to the car. As is the case in a crash, BlueLink has this Auto crash notification facility, and the car made an automatic call to BlueLink. To my utter disdain, the call never connected / I didn't get a response! I manually called for RSA / BlueLink SOS from the BlueLink buttons on the IRVM and again no response. After like the 4th attempt, I got a response and the receiver asked if we had any injuries etc. and before I could tell him my location, the call disconnected!! Mind you, this is on an open highway, in a town, so I really feel there was no issue with the network.
I was getting frustrated with this useless BlueLink, and I proceeded to first get my family to safety as the rain was also getting heavier. As I said earlier, people around that area were very kind, and I could get my family to rest in a house on the other side of the road. With the help of locals and a friend of mine (I had to make numerous calls to coordinate), I could get a tow vehicle and also a taxi to get me and my family back home to Mangalore. I got my car towed to Kasaragod Hyundai (where I got my car from).
The other big disappointing question now was, HOW DID THE TYRE GIVE WAY? I had done 27k kms on the stock CEAT Secura Drive tyres and I had just filled fuel an hour prior to the accident and had also checked the tyres. Could the tyre have got a crack earlier, which I failed to notice? To be honest, I never really felt confident about the stock tyres from the start. Grip levels weren't really great. I have attached pictures of the tyre and the car. The tear on the tyre is seen.
Now comes the most disappointing or rather insulting part…
I got a call the following morning at 9 am. With the trauma of the crash still fresh in my head, I realised the call was from the BlueLink head office, and the operator says, "Sir, we see you had an accident yesterday at around 4 pm, both airbags have deployed. Are you safe? Would you like any assistance?" I really lost it at this point. First of all, they never responded during the crash and to add insult to injury, they called the next day and ask if I required assistance! Heights of callousness! I blasted him over the phone and hung up.
I was leaving for the Hyundai service centre at Kasaragod by then. I narrated the whole story, filled up the insurance papers and everything and gave an account of the very disappointing experience with BlueLink.
I escalated the matter to the service centre, and they sent a mail; I spoke directly to the Regional Head Office in Ernakulam regarding this pathetic behaviour and to this date, there hasn't been any communication received, I don't see the point why we pay so much money for all this connected car tech and stuff, and when it really matters, it turns out to be absolutely useless.
My car is still waiting at the service centre. No work has started as the parts haven't reached yet. There was a lot of damage and a lot of parts need to be replaced.
I'm really struggling without my car, and I really don't expect that the work will be completed in another month at least. Even after repeated requests for a spare car, I was denied saying it is company policy that they cannot provide a spare car for accident cases. The Hyundai service centre has been keeping me updated but to be honest, there is no significant update till date. Neither have I received an explanation about the BlueLink incident, nor has any work started on the car.
BHPians, kindly guide me through with how I should proceed. Should I send a mail directly to Hyundai about this? And what about the tyre?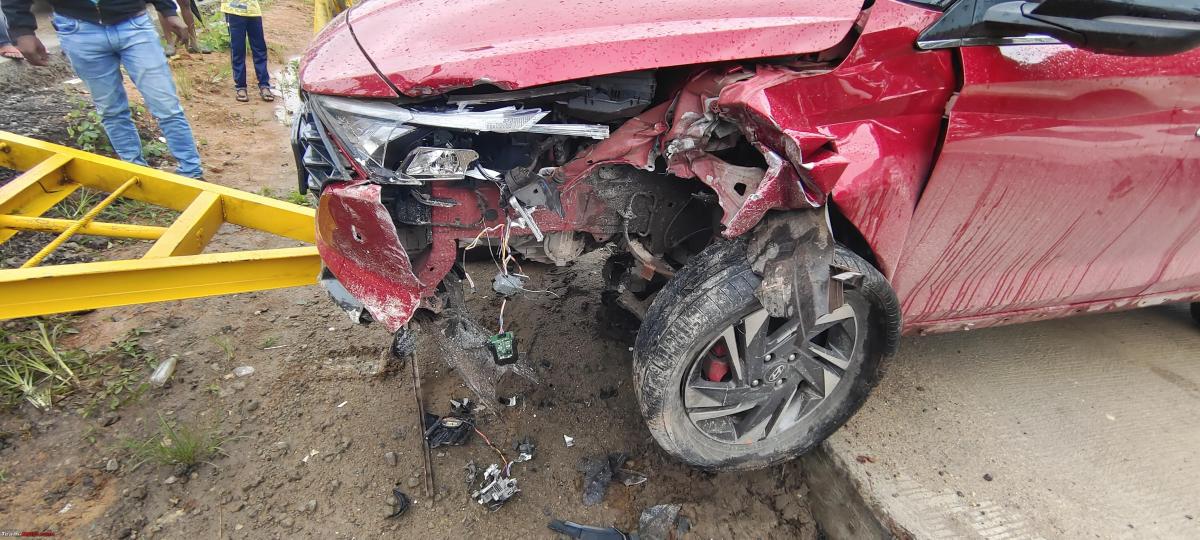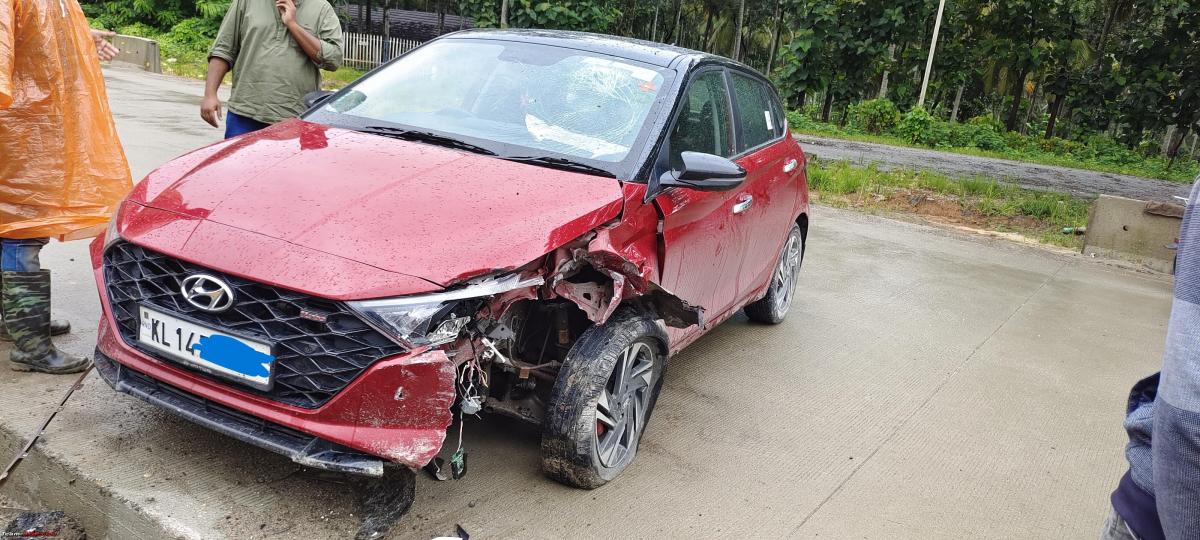 Here's what BHPian Nalin1 had to say about the matter:
I would have been shocked only if it had worked seamlessly!

All these are 'good to have on paper' features. Practically don't have high expectations.

Tata's IRA app has an 'immobilize my car' feature. Tried it for fun. App said 'Immobilization initiated'. Will get a call and SMS with more info. I was under the impression that the car is now immobilized and stuck right where it is.

But no! Could unlock and start the car as usual. Had no idea what it was.

Next day, a call comes. "Did you raise a request? Sorry, we work from 9 to 6. You had raised a request at 7, hence we are calling now. Was that a mistake from you and do you want us to take further action? (sorry we are in the process of operating 24/7)".

I informed them to ignore it.
Here's what BHPian sandeep108 had to say about the matter:
Tires always heat up after running, even more so after long runs. That is why recommended pressures are always for cold tires. If recommended is 32 cold, during highway runs this can go up to 38-40. Tires are accordingly designed for this. When you checked and put the tire pressure back to 32 on very hot tires, effectively this made the cold pressure say around 24. Now with load, speed and running, the tires do not have enough pressure as designed. This results in extreme flexing of the tire sidewalls which then get heated way beyond tolerable temperatures and which abruptly give way as a burst.

Many cars/tire manufacturers recommend higher cold tire pressures when under load and/or speed.
Check out BHPian comments for more insights and information.