There was a time many years ago, just after Dodge introduced the Challenger and Charger Hellcats, that I joked around about the brand putting the 700-plus horsepower Hellcat engine in other vehicles in the brand's arsenal. Sure, such a joke was laughable at that time but now we're in an era where Stellantis (Formally FCA) is almost doing just that – Hellcat engines for many vehicles, even the latest Dodge Durango that I had a week to check out.
The 2021 Dodge Durango is an embodiment of one of the few mainstream American 3-row SUVs that growing families clamor. Riding off of an aged platform, the Durango remains to be a highly desirable vehicle for many good reasons. With that, Dodge has built off a good, solid platform with some updated tweaks and the biggest change being the offering of the thunderous Hellcat engine that produces 710 horsepower for the new 2021 Durango SRT Hellcat.
The 2021 Dodge Durango SRT Hellcat is something that we didn't need but it was something that many enthusiasts and those who dreamed of a 3-row SUV that does it all wanted. Having 710 horsepower and 645 lb-ft of torque sent through a proven 8-speed automatic transmission before reaching all four wheels is a masterful recipe, especially when you can take along your family and a good amount of their belongings along for the thrill-seeking ride.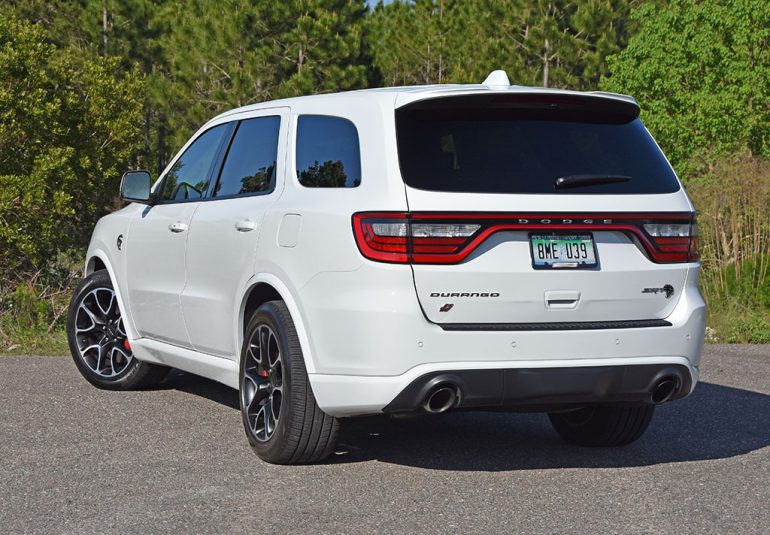 A thrill is just what you get in the Durango SRT Hellcat where you can enable a launch mode to get the family hauler up to 60 mph in just 3.4 seconds or hit the drag strip to conquer the quarter-mile in the 11-second range. If you had enough runway you can cruise at a steady 117 mph until the 24.6-gallon fuel tank empties. The heavy clattering shifts and exhaust rumble that you hear under full throttle titillate your senses with a message to your brain that THIS is something special that feels safer than any rear-wheel-drive Hellcat vehicle ever did. Yes, the Durango Hellcat feels assured and lighter on its feet than many of its Hellcat siblings thanks to the clever suspension tuning and the trick all-wheel-drive system that can be tweaked via the several SRT drive modes to split power 50/50 or left up to the computer to sort out. You can even default to a specific setting of the drivetrain and many other drive setting characteristics for the Auto and Custom modes.
Kudos to Dodge for giving the Durango the proper Hellcat treatment that just isn't only a big engine, but supported by an adaptive suspension system, large 6-piston Brembo brake calipers up front/4-piston rear, larger 295/45 20-inch tires, a screaming exhaust system that often drones a bit too much to enjoy on long trips, and the supporting SRT performance pages and settings to dial up your favorite flavor of Hellcat performance.
Surprisingly, apart from the exhaust that appears to be the loudest of all Hellcat vehicles under the Stellantis umbrella, the Durango Hellcat is quite livable for day-to-day transportation duties. In fact, there isn't much of a concern in handing over the red key to others for a test drive in knowing that the Durango Hellcat is sure-footed with its all-wheel-drive and handles decently. You can kick the rear out a bit for some oversteer fun after disabling traction and stability control if you are ever so brave to do such in a 3-row SUV tipping the scale at just over 5,700 pounds.
Inside of the 2021 Durango Hellcat is a slightly refreshed space with most of the changes found in the updated infotainment system with a new larger 10.1-inch touchscreen running the latest Uconnect 5 software. The modifications of the new infotainment system seem to only polish what was already good in the customization and dedicated menu sets that people have grown to love of the many years of a highly praised system. The integration of wireless Apple CarPlay and Android auto along with the plethora of standard USB and newer USB-C ports throughout keep the Durango as a player in the modern tech age. There's also a pair of 9-inch entertainment screens mounted on the backs of the front seats, which seem more of a carryover that still utilizes an old DVD player but provides several input ports to play from your favorite device.
The large seating areas, proportions, heated/ventilated front seats, heated second-row seats, and many other comforts and active safety features of the Durango elevate its attractiveness for those who just want one vehicle to do everything – tow up to 8,700 pounds, make home depot runs, haul all types of stuff, make comfy and entertaining cross-country family trips for six, commute, (legally) play with sports cars out on the open road, and even make occasional visits to the track. There's not much on the auto market that can do all of this and certainly not for under 6-figures.
Dodge initially claimed that the Durango Hellcat would only be around for one year and heavily limited on production numbers. However, I believe with the ear-to-ear smile on my face and many others who are willing to lay down at least $81K for such a vehicle and are willing to form a line, Dodge may offer the Durango Hellcat for a "limited but extended" time outside of the first year – at least until EVs come along and kill off all-things Hellcat. In addition to budgeting for that $81K or the as-tested price of my nicely-equipped test vehicle at $92,040, you must be ready to shell out big at the gas pump as the Durango Hellcat drinks copious amounts of fuel getting just the EPA-estimated 12 mpg city and 17 mpg on the highway (13 mpg combined).
Still, with a price under 6-figures, the 2021 Dodge Durango Hellcat is a prized vehicle for the whole family that has just the right features and amenities to make everyone happy, and even happier when you lay into that throttle to hear and feel all 710 screaming horses.
#gallery-1 {
margin: auto;
}
#gallery-1 .gallery-item {
float: left;
margin-top: 10px;
text-align: center;
width: 25%;
}
#gallery-1 img {
border: 2px solid #cfcfcf;
}
#gallery-1 .gallery-caption {
margin-left: 0;
}
/* see gallery_shortcode() in wp-includes/media.php */